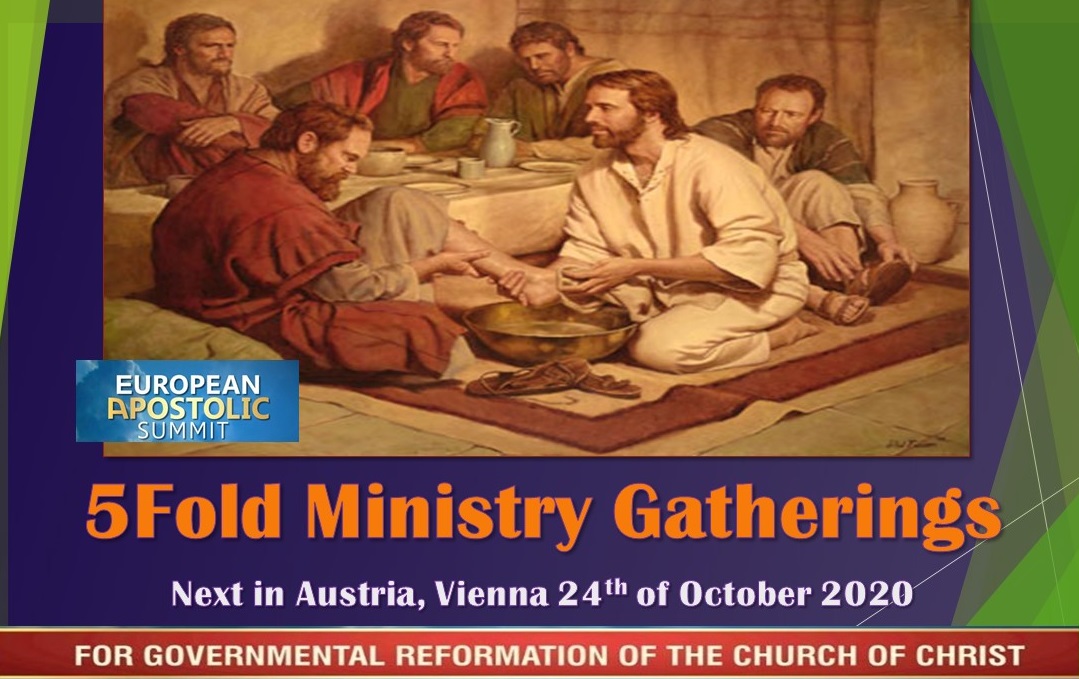 HIS GOVERNMENT, HIS ORDER!
"... a son will be given to us; and the government will be on His shoulders; and His name will be called Wonderful Counselor..." (Isaiah 9:6)
Why we need Governmental Reformation?
His government means His order, and surely this has to become first to His Body.This is the content of Eph.4:10-16, even to the full measure. We want to see His glory in His Body, and according to the Bible, it was given when the temple was ready; Moses and the tabernacle; when it was fully erected the glory of God came down, Salomon's temple; at the inauguration of the temple the glory fell so that they could not stand, or continue their doings, and in NT; when all those who used to be, and to walk, with Lord Jesus were gathered in the upper hall, and when the Pentecost was fully come, the glory came down.
It's time to get the Body build up to the full measure of Christ, for us to be ready to carry His glory for the last great Harvest, and to be prepared to be His Bride (Eph. 5:27).
The governmental model of the Church of Christ in NT
In Acts we see how apostles, and also prophets, were in close connection with elders of local bodies. A governmental example is their gathering to Jerusalem to seek the Lord's will for some matters concerning the whole Body. Afterwards they sent letters of orders to congregations, and also visited, apostles and prophets together, them in person.
The local body of Christ, with their elders, used to be in continuous collaboration with apostles and prophets. Apostles and prophets didn't stay in one local body, but were sent to the Body of Christ in whole, visiting and sending letters to them in an area the Lord had sent them to.
The fact of the Church of Christ being built on the foundation of apostles and prophets is still true today. It's not built only on the foundation of the written word of old government prophets, or new government apostles, but also on the understanding and revelation of the Word of God these two ministries carry in their offices even today. That's the grace these offices have from the Lord.
Even though every believer has revelation through Jesus Christ, all the five ministry offices have their own special grace for the building of the Body, the equipping of saints.
This gives also a picture of the governmental meaning of the 5fold for the Lord in His work. It is His order for them to prepare the saints. That's why He has European Apostolic Summit as a working group of those in apostolic and prophetic ministry in Europe, to gather the 5fold ministries together in their nations in order to collaborate in building up His Body in that nation.
In the NT we see also the model of the governmental way of taking care of the local flocks; the elders shepherding together. The Bible never mentions one elder, or shepherd, functioning alone, but talks of them together, as eldership.
We know that many religious Christian structures, who already have fixed up their own order of functioning, are not able to receive the order of God.
They have not followed God from camp to camp like He told Israel; to undo their camp and to leave, when His presence leaves, and to follow Him where He goes, and to camp again where He stays. And to leave again to follow Him… Jesus is our way, we need to keep on moving in Him where He takes us.
Many have changed their camps to be permanent spiritual residences, denominations, dividing Christ and hindering saints to really follow Jesus!
Now Jesus, in building HIS LIVING BODY and bringing HIS ORDER to it, is gathering all the living stones out from the old dead-fixed structures, placing them under His Head to form together His living Body.
Be ready to follow Him! Come out when He calls you out, He will lead you step by step. Remember, you are called to act by faith!
We invite you to join us in organizing 5Fold Ministry Gatherings in Europe for governmental reformation to the living Body of Christ!
Please, pray for the Lord to connect us with those in your nation who are willing to take a stand for HIS ORDER IN HIS BODY, to restore the fivefold ministry, and their cooperation for building up the saints.